Sourcing From http://www.finder.com.au/kitchen-renovation-costs-in-australia
Rates and Fees verified correct on December 11th, 2015
Price points for every budget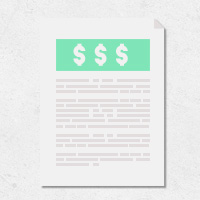 A complete kitchen renovation is a big commitment for any homeowner. It requires careful planning as well as an understanding of the financial resources required for the project. While materials will constitute the majority of your costings, direct labour and installation costs are also major considerations for your budget.
From budget to standard and premium renovations, the costs of revamping your kitchen will vary significantly depending on the location, size and condition of your property as well as the quality of materials used.
The intended use for the kitchen will help forecast your budget planning. If you're a cooking enthusiast, you may opt for higher end appliances with standard fittings, whereas if you're more concerned with the aesthetics of your kitchen, you may spend more on upgrading cabinets and floors, as opposed to appliances.
While some jobs can be done through DIY projects, it is recommended that you consult licensed professionals such as kitchen renovation specialists, architects or carpenters before embarking on your renovation project.
WATCH: The Block 2015 Contestants Josh and Charlotte's top renovation tips
ALSO READ: How much does it cost to renovate a bathroom?
How Much Will a Kitchen Reno Set Me Back?

According to ImproveNet (2015), the average cost of a kitchen renovation is $17 226, with most Australian homeowners spending between $12 101 – $19 023.
However, this cost can vary significantly depending on the extent to which a kitchen needs to be altered. Typically, kitchen renovations can be segmented into three categories: budget, standard and premium.
According to the Australian Institute of Architects combined with a recent finder.com.au study, a basic kitchen renovation in Sydney costs $23 061, a standard renovation costs around $41 800 and a premium kitchen renovation is estimated at approximately $68 961.
These estimates vary between low, standard and high renovation costs depending on the materials used, as well as the labour and detail of work required. These costs include all new appliances, installation, plumbing and electrical work.
Kitchen Renovations at Different Price Points
Before remodelling the kitchen, you should do some research into the material and installation costs to help plan for your renovation. It is recommended that you choose materials, appliances and fixtures before you begin the project to ensure that you stay within the parameters of your budget.
Budget: $10 000 – $25 000
A budget upgrade may involve simple additions to the kitchen such as new cupboard knobs, light fixtures, or adding a tile splashback. This type of kitchen upgrade will generally include DIY projects where the shell of the kitchen, such as the floors and ceiling, will remain in tact.
Building expertSamuel Tastzidis confirms that a budget kitchen renovation would generally involve basic upgrades to the existing structure:"You'd probably change the light fittings, upgrade appliances or even install new stone benchtops to give the kitchen a facelift."
While a budget kitchen renovation is estimated to cost between $10 000 – $25 000, Tastzidis says there are ways you can get better value-for-money: "You can find cheap DIY kitchen kits with all appliances from Bunnings or Masters for around $5000 which can be easily installed. But it goes without saying that the overall finish won't be as good as a custom-made kitchen built and installed by a professional cabinet maker."
It is critical that you choose your materials wisely by observing warranty terms and opting for reputable brands, Tastzidis explains: "I would always recommend paying a little more for appliances with extended warranty periods and sourcing quality materials such as laminate or Formica®  doors which are much cheaper and more durable than polyurethane.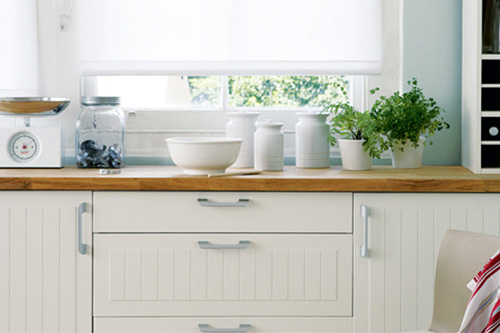 ('Kitchen Renovation Tips', Homelife).
Get More Luxury for Less
If you're after luxury at a budget price tag, there are several ways you can minimise your costs:
Leave your electrical outlets in their current position to save on plumbing and installation costs.
Choose an acrylic splashback instead of expensive wall tiles.
Opt for vinyl flooring rather than costly ceramic or porcelain tiles.
Standard: $20 000 – $45 000
For a standard kitchen renovation, you can upgrade your kitchen and make some changes to the kitchen's shell structure, such as new flooring, replacing a window or relocating lighting. However, this price point assumes that the major features of the kitchen will stay in place and the floor plan will not be changed dramatically.
Tastzidids reveals the factors that influence the cost of a standard kitchen revamp: "The cost really depends on the size and existing condition of the kitchen but I would say that a standard upgrade would set you back between $20 000 to $45 000."
With respect to items such as your benchtop, Tastzidis explains that certain brands stand above others:"I would always choose Caesarstone or Corian benchtops as these are extremely durable and not easily damaged by moisture . Your cabinet maker will supply and install these benchtops, or they will employ a sub contractor who specialises in stone benchtops to measure, cut and install the benchtop for you."
"Kitchen styles have become a lot more open planned over the past 15 years so removing walls is always a possibility. Island benchtops and breakfast bars are becoming very popular in today's kitchen designs."
When choosing the functionality design for your cabinetry, Tastzidis demonstrates the importance of choosing quality hardware: "In a standard kitchen renovation I would always install cabinets with soft close drawers but be careful of manufacturers using cheap hardware as this will not last. I recommend using Blum hardware which is a reputable brand that sets the industry standard for cabinet making."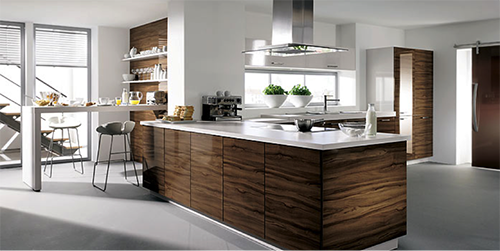 Premium: $45 000 – $75 000 +
A larger scale renovation may include a new layout of the kitchen space or addition of walls leading to adjacent spaces. According to Tastzidis this could involve extensive alterations to your kitchen: "A premium kitchen renovation could involve relocation of the kitchen, removal of major walls, installing high end European appliances, auto-opening drawers, heated flooring, hot water taps or installing new windows. For this type of renovation, you'd need to budget between $40 000 – $70 000 plus."
In terms of the increased functionality of premium appliances, Tastzidis states:"All your appliances would be built in and will work in a seamless manner. For instance, your fridge and dishwasher will appear to be a cabinet, but when opened will function as a fridge or dishwasher respectively."
"The major difference between a budget and a premium renovation is the quality of the materials used. You can look at a budget kitchen and it may be aesthetically pleasing, but it won't have the durability, functionality or longevity of a premium kitchen. Sometimes it's worth investing now to reap the benefits later, you need to think about how this project can add substantial value to your home.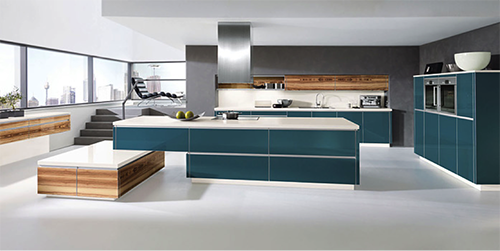 How much value will a kitchen add to my property?
While renovating can be a costly option, it can add considerable value to your home and improve the space and functionality of your kitchen. It is estimated that the percentage of the project recovered upon resale of your home could be 75 – 100 per cent, depending on your suburb.
According to Tastzidis, renovating an existing kitchen is the fourth highest value-adding renovation type in Australia.
What are the costs of different kitchen components?
By understanding the costs of each component of your project, we break down the itemised costs for each type of kitchen renovation: budget, standard and premium.
Flooring
The size of the area as well as the material selected for the kitchen floor, will greatly impact the overall cost of the flooring. Inexpensive materials such as vinyl and linoleum may reduce costs in the short term, but you need to consider whether these materials will endure wear and tear. Wood and tile, on the other hand, require a larger upfront investment, but they will last much longer.
Based on national averages, it is estimated that the materials and installation of new kitchen flooring can cost approximately $3 000. That's why it's important to know exactly what kind of material is desired and how many square meters need to be covered.
Basic: Vinyl flooring is a popular option amongst budget kitchen renovations. It is estimated that the supply and installation of vinyl flooring costs approximately $36 per square meter. So for a 13m² kitchen, the total flooring cost would be around $468 on average.
Standard: The standard cost of a premium grade hardwood floor would start from $40 per m² and installation costs are about $35 per m²  including underlay. For a 13m² kitchen, the total flooring would cost roughly $975.
Premium: Solid hardwood flooring such as spotted gum would often be seen in a premium kitchen space. This material would cost around $90 per m² , and sanding and polishing would also be $90 per m². For a 13m²  kitchen, this premium flooring cost with a premium finish would be around $2 340.
Cabinets
Having adequate storage is a crucial consideration for any kitchen space. Utensils, tupperware and cooking ingredients need be stored and organised efficiently. You need to decide whether you would prefer a standard set or a custom fit, as well as choosing a design and colour scheme for your cabinets.
Your choice of hardware, such as your pulls or knobs, can provide you with versatility with respect to the aesthetics of your kitchen. You can change the look and feel of your kitchen by alternating between your hardware. For example, knobs come in a range of finishes from glass to ceramic so you can make your cabinets look more traditional or contemporary based on your preferences.
Basic: If you just need to touch up or modify your existing cabinets, it could only set you back $100 – $460.
Standard: Upgrading cabinets using high quality laminate and mid range hardware could cost between $3 000 – $4 500.
Premium: Installing high end hardware using polyurethane timber, stainless steel knobs and pulls could cost between $5 000 – $12 000.
Countertops
One of the most influential kitchen renovation designs you'll make is selecting the right countertop for your lifestyle. Factors such as durability and style are likely to guide your choice when contemplating different countertop materials. Are you all about an easy-to-maintain surface? Do you value stain-resistance? Or maybe you dream of launching a hot pot on a granite counter without making a burn?
Surface materials range from less expensive choices such as  Formica® to more expensive surfaces like marble, stone or quartz.
Basic: Repairing or adjusting existing fixtures including re-sealing the joints between the splashback and the benchtop could only cost just $450 – $800.
Standard: Upgrading benchtops to a quality laminate countertop could cost between $3 000 – $5 000.
Premium: Using high quality quartz or stone that may include features such as waterfall ends could cost $10 000+.
Sink
Sinks range from simple undermount models to fully integrated, professional-grade sinks designed for heavy duty cooking.
From basic models with two-way handles to trendy curved faucets, there is an infinite choice of sink types to suit every budget.
Basic: For a basic kitchen sink, including taps and installation, you could spend just $500.
Standard: For a mid range sink and tap, including installation, or if you are replacing existing fixtures, you could spend about $1 500.
Premium: If you're installing a new sink with premium features, you may need to budget around $3 500.
Appliances
New appliances will influence the appearance and functionality of your kitchen area. By purchasing Energy Star-rated appliances you conserve energy and lessen your electricity expenses.
Basic: Repair existing appliances through routine maintenance, such as cleaning your oven, which could cost around $200 – $300.
Standard: You could replace your oven and cooktop for about $5 000 with mid range appliances.
Premium: You can upgrade your cooktop and oven with premium European branded appliances, such as Smeg, for around $10 000+.
Undergoing a kitchen renovation is a considerable task that requires financial and managerial commitment. Having realistic expectations of your costs will facilitate the renovation process, regardless of your budget. Selecting the right materials, design and tradesmen can also be instrumental in successfully completing your kitchen renovation project.